Strider Instrument & Application Co. (shanghai), Ltd.

Strider Instrument & Application Co. (shanghai), Ltd. founded in 2002. As the subsidiary of Strider Group, Strider Instrument & Application has played a role to develop the business and customer services in Chinese market for the important products of the group.

Our work focuses and value proposition:
In the filed of experiment, testing, manufacture process and quality management, Strider Instrument & Application Co. (shanghai), Ltd. offer the best value instruments and solutions for the Chinese customers.
We continue to perfect our after-sale services, support the customers to improve their consumer value of the end products.

Our all staff executes the following three core actions to fulfill our promises to our customers:
1. Expertise Leadership: Expertise creates customer value. We do not offer the products and services that we are lack of professional expertise.
2. Enthusiasm Service: We find and realize the real needs from our customer position. Our staff would like to offer the enthusiasm services.
3. Quality Guarantee: We adopt the Quality Assurance Policy – "Green Warranty, Lifelong Service".

To our dear distributors: we look forward to share the experiences with you, share out the work and cooperate with one another, share the mutual benefits and win-win trade situation. Our aim is to create the best user value together.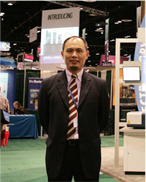 Jimmy Lee
General Manager
Strider Instrument & Application Co. (shanghai), Ltd.

To our esteemed suppliers all over the world: we look forward to share with you our rich marketing experiences in Chinese market and also anticipate to learn more from your company. We seek the cooperation opportunities and work together to move forward the development of the products & services that can bring more value to our common customers, which can benefit the Chinese clients. To our staff and share holders: we all staff promises that we will keep on learning and progressing during the customer service process and pursuit the greatest success. The best rate of return on investment will be the good feedback to our share holders.